Resource:  http://www.tsemrinpoche.com/tsem-tulku-rinpoche/kechara-soup-kitchen-ksk/why-i-conceived-of-kechara-soup-kitchen-or-ksk.html
I chose to be poor when I left my step parents' home when I was 16 years old so that was 1981. I crossed the US on my own from New Jersey to California. I had no choice. When I stayed home, I couldn't pursue what I wanted to pursue. That created alot of friction. I ran away from home several times, but in 1981, it was my third and final time I left home in Howell, New Jersey for good.
It was not easy, as I had to work all types of jobs in California where I ran away to and joined a dharma centre in Los Angeles. At sixteen and not having alot of skills it was not easy. Not easy at all.
I ate the cheapest foods, used blankets from 2nd hand stores, borrowed or got 2nd hand clothing from friends/what not and basically had very little next to no money. I am not complaining but it made me appreciate help, having things, friends, good food, finances, house and support now. But I never forgot what it was like and I sympathize deeply with people who have it hard.
So as an extension of those days, I created Kechara Soup Kitchen or KSK ( http://kechara.com/ksk/ ) from giving food to 15 people a week, now we are giving to 2,500 people per week in Kuala Lumpur, Penang and Johor Bahru. We have acquired our own building and have been cooking food on the premises. Exciting and fulfilling to help the homeless. KSK has been getting alot of media coverage. We are grateful to the media. In this video, The Star newspaper in Kuala Lumpur interviews the homeless we have been helping and also interviews the President Dato' Ruby Khong (my good friend and student) regarding KSK. It is a wonderful online video made available by The Star. Thank you The Star! Please see the above video and also the below links. You will find it interesting and understand what we are doing.
Other videos you can link to and watch regarding KSK:
http://www.youtube.com/watch?v=dix6R-cZTGk
http://www.youtube.com/watch?v=Ez0m5rFUdXg
http://www.youtube.com/watch?v=1nEVJewhpro
I have been giving food to homeless people and stray animals most of my life. My step mom use to do that. Her name was Dana Bugayeff. She was diagnosed as a schizophrenic 30 years too late, as a result it made many people and herself suffer a lot. She had like multiple personalities. But when she was herself, she was soft, kind, generous and very giving. I always remember that about her. She abused me with beatings, scoldings, punishments, verbal abuse for the most of the time I was living with her. When she was finally diagnosed properly and had medication, she became the person I knew she was inside. The funny thing was as a kid I couldn't live with her, be with her and left home, but I never stopped loving her or missing her. I just wished she was diagnosed years before that. She suffered a lot and she was not a bad person at all. She furiously objected to me becoming a monk or engaging in a spiritual life. She had her views and I was punished for it for many years. I don't resent her for that, I know she wanted the best for me in her world. How can you resent someone that you call mom when growing up and was generous to you when she was not ill.
Before I left for India and left the United States for good, I went to New Jersey to see her and say goodbye. It was the last time I would ever see her again. Our relationship changed. When I use to go visit her from California in New Jersey, she was always polite and cordial to me. She knew she had lost control over me and that I was going to become a monk. She never accepted that. I am sorry for that. From my heart, I am sorry she couldn't accept, because I never wanted to hurt her by being a monk. I just couldn't do what she wanted me to do.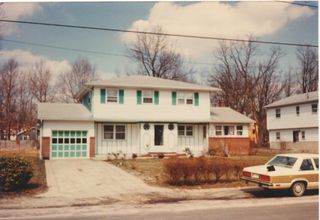 This was my family home taken in the fall, when the leaves have fallen from the cold. My step parents Boris and Dana Bugayeff lived here with me. It was 233 West 3rd Street, Howell, New Jersey, USA 07731.  Both Dana and Boris have passed away. After I went to India I unfortunately never saw them again. My bedroom is the top floor right window. The car in front was ours.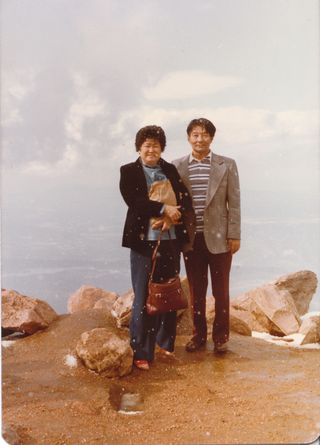 These are my step parents whom I lived with in New Jersey. Boris and Dana Bugayeff.  I thought they were my real parents as that was what I was told, till I was told differently when I was in my teens.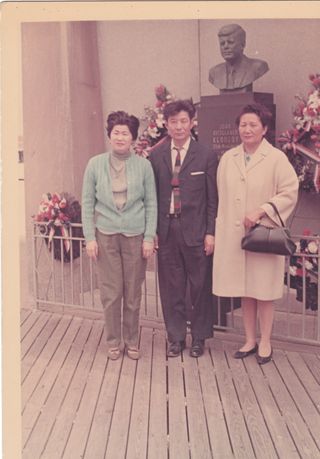 Dana and Boris Bugayeff with my maternal grandmother, who was the former ruling family of Xianjiang. My grandmother arranged my adoption over to Dana and Boris in New Jersey in 1972. I didn't know anything. I was told Dana and Boris were my parents and at 7 years old, I just believed it. My real mom couldn't take care of me, so my grandmom had me immigrated to the US from Taiwan. Through the years, my grandma who loved me very much would come on 'inspection' visits to make sure I was properly taken care of. I looked forward to her visits. When she visited, I wouldn't be beaten, shouted at or punished. I never told grandma. I dare not to, because after her visits, my mom would be very irate.

This is my step dad with my birth mother in the red.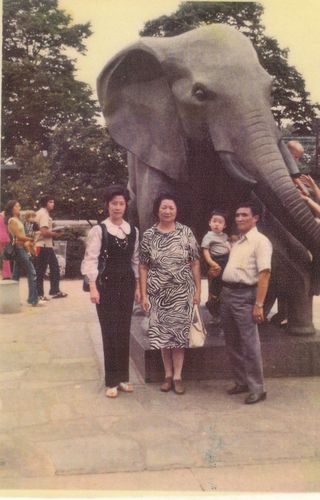 This is my (from left to right) birth mom Dewa, her mother (my grandmom), and Duger a family friend from Taiwan holding my half brother Bata. She had him with her husband. My mother had another son after Bata.  I don't know where they are now.
My birth mom in the red (centre). My cousin Judy on the left (holding glass) and my other cousin Toktun on the right. Judy and Toktun are sisters. I'll talk about Toktun another time. I loved Toktun very much. She was always kind to me. She has passed away.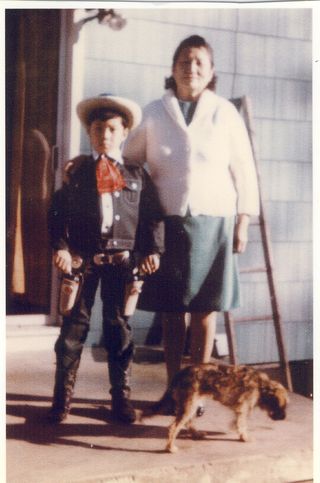 On one of my grandmother's visits to our house in New Jersey. She would stay around two weeks to observe me and how I was. I loved it so much when she visited. I was sad for weeks when she left. She was affectionate, loving, kissed me non-stop, fed me, and always talked to me in a loving manner. I miss her so much. I was wearing a cowboy outfit and in front of us was my doggie Princey. I loved Princey. Later he was run over by a car.
My step dad, Boris Bugayeff and me. He loved me in his own way.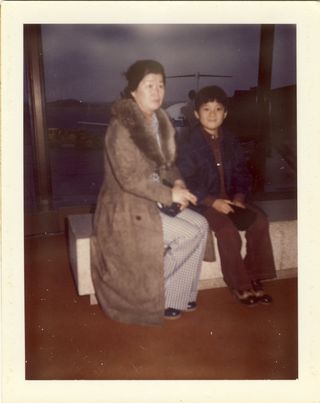 My step mom Dana Bugayeff and myself.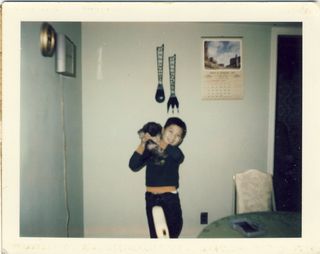 Me and Princey. My step mom gave me Princey. I loved Princey so much. He was such a cute and good dog. But he always chased cars to my horror. I'd worry so much about him when I went to school.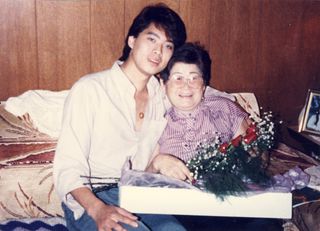 This was me and my step mom Dana. I visited for the last time before I went to India. I never saw her again. I gave her roses. She loved roses the best. She passed away October 15, 2005 which was a Saturday 12:30 AM Eastern time New Jersey. I am wearing a gold Shakyamuni pendant she gave me years ago in the picture. I always love that pendant. She wore one also always. The pendants I have conceptualized, designed and created these days are inspired by that pendant she gave me. I miss her.
In life sometimes you just stop asking why and just accept.
Tsem Rinpoche